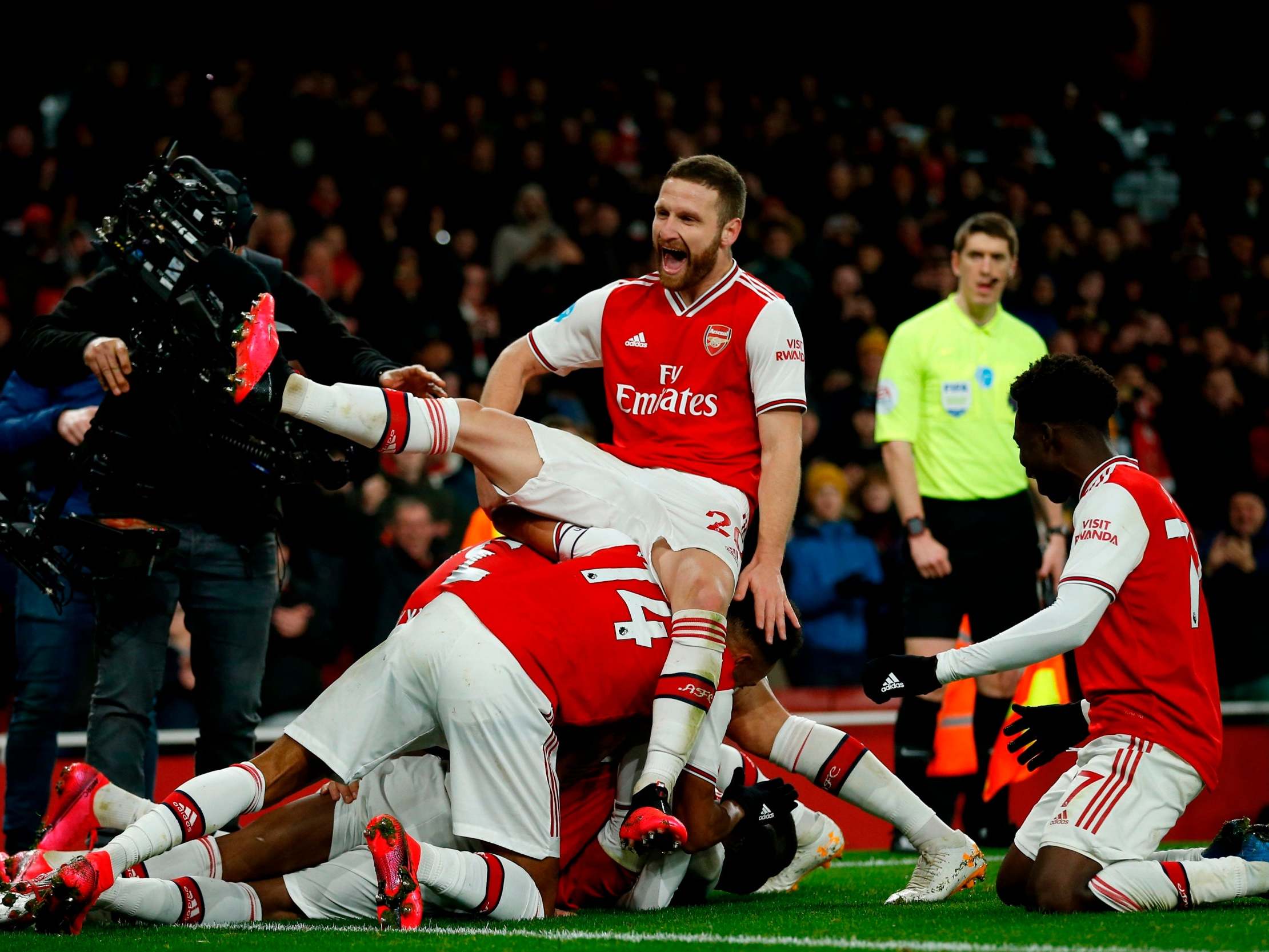 Arsenal fans have learned to be sceptical of managers, players and false dawns. But as Mikel Arteta orchestrated his second Premier League win with a performance that, for the final hour at least, spoke of a greater coherence and, dare it be said, swagger from those in red, it would not be wrong to wonder if this was a breakthrough moment.
The Spaniard spoke of the winter's break in Dubai as a "mini-preseason" and this 4-0 win had the hallmarks of sustained finish to the season with fifth spot suddenly a position worth striving for. Manchester City's financial malfeasance may well be to Arsenal's benefit.
With Pierre Emerick-Aubmaneyang, they have always got a chance. His 15th goal of the season, and 47th since debuting in February 2018 – only Mohammed Saland, with 49, has more in this period – allayed what fears had grown after a patchy start and opened a door that Newcastlecould not close.
Just 156 seconds later, Nicola Pepe had doubled the lead. The gloss, and then some, came with injury time finishes from Mesut Ozil and second-half substitute Alexandre Lacazette.
Maybe it was the elongated break of 14 and 12 days for the hosts and challengers, respectively, that made the first-half feel like a bout between two boxers who hadn't stepped into the ring for a while. Those opening 45 minutes seemed as much about feeling each other out. Neither keen to take any liberties just yet.
Newcastle were keener to engage, with full backs Danny Rose and Valentino Lazaro, both on full debuts, adopting wide positions offering both reflex-board passes for Miguel Almiron and Allan Saint-Maximin or distractions to allow both space further in-field.
As such, Buyako Saka and Hector Bellerin were pinned back meaning they could not provide similar support for their attacks.
Had it not been for Joelinton's right foot, he might have tested Bernd Leno as early as the 15th minute when a cut-back from Saint Maximin was directed goalwards with his left. The Brazilian's standing leg doing the defence's work.
If you are looking for a precise moment the game flipped, then you need to look no further than the 31st minute.
Two touches from brilliance from a previously subdued Mesut Ozil – the first mis-directing Sean Longstaff in the centre, the second an outside-of-the-foot to find Aubameyang lurking with intent just outside the box. While the forward run and shot were tamed, not only did it register the Gunners' first shot on target but it seemed to remind them just what they were capable of.
It is to the credit of the players and invariably Arteta that the half-time break did not impinge on that enthusiasm. Ozil and Ceballos, integral to the domination of those 15 minutes before the break, were just as in sync for the restart.
Eddie Nketiah should have marked his first Premier League start with a goal five minutes into the second-half. Alas, on his full Premier League debut, he could only find the top of the bar when Pepe's cutback had taken Newcastle goalkeeper Martin Dubravka out of the picture. Four minutes later, that miss was forgotten.
What enthusiasm Rose and Saint-Maximin had shown going forward was lacking when Pepe received the ball wide on the right and shifted it onto his favoured left foot. The cross to the back post was perfect, a wholesome blend of dink to elevate it to the back post and pace to ensure Aubameyang's forehead did not have to work too hard to beat Dubravka into the far corner.
Less than three minutes later, Pepe would be further inside – between the penalty spot and the six-yard box – to sweep home his fourth goal of the season. Saka was the provider this time around, showcasing those wide traits that come so naturally to him, nutmegging Lazaro and maintaining composure into the box to set-up the Ivorian. No other Arsenal player has more than the 18 year-old's eight league assists this campaign.
Things might have got edgier for an Arsenal fan base, who cannot help but fear the worst, even at 2-0 up. A dangerous lead held by dangerous leaders.
One wonders just how things might have panned out had literally any other player in Black and White other than centre-back Ciaran Clark been the one to receive the ball six yards out with 27 minutes to go. The Irishman's shot, which deflected off David Luiz, looked to have been going wide anyway when every inch of the goal was at his disposal.
On 75 minutes, Saint-Maximin's shuffle and open-body finish intended for the far corner beat Leno with ease but rebounded back off the post.
As the clocked ticked over to 90, Ozil tapped in from close range after Lacazette had missed an opportunity to shoot but was able to dig the ball out to give the German a go. In return, the Frenchman was rewarded, despite the fortune of the ball deflecting off his standing foot, when Pepe squared to him in the fifth of six added-time minutes.
That was the moment that really summed up this match. It ended a scoreless streak of nine matches for Lacazette and brought all bar the away support to their feet, as he finally ended his rut.
A final box tick on a Sunday afternoon that could not have gone any better for a side who had got used to things not going their way.