In Germany, it was arguably the Decade of Robert Lewandowski.
After arriving at Borussia Dortmund from Poland's Lech Poznan in the summer of 2010 for $5.2 million, he has done nothing but score goals and win trophies. In his first season with Dortmund, he only made 15 league starts and only scored eight goals, but the team won the Bundesliga title. On top of the club-wide success, his age and his efficiency suggested something special might be on the way. As a 21-year-old, he scored non-penalty goals at a higher per-90-minute clip than all but eight other players in the league.
A year later, Lewandowski went supernova, and he isn't anywhere close to burning out. Over the past eight seasons, he has never ranked below third in the league in goals scored, landing third once, second three times and first four times. Throw in assists, and it's somehow even better. Lewandowski, who moved to Bayern Munich in the summer of 2014, finished second in the Bundesliga in goals-plus-assists in 2011-12, and the year after that, and the year after that. He slumped down to fourth in 2014-15, but made up for it by leading the league in each of the past four seasons.
While Lionel Messi and Cristiano Ronaldo might go down as the two best players in the history of the sport, Lewandowski really might be the best of the rest. Hell, in any other era, he might be considered the best. In domestic play since 2010, only those two have taken more shots, registered more expected goals and, well, scored more actual goals, per TruMedia data. He's the platonic ideal of the process-driven modern striker. He takes a ton of shots from great locations and therefore, he puts the ball in the back of the net again and again: 224 times since 2010-11, to be exact. With consistent, reliable production every year, it's no coincidence that his team has won the Bundesliga title in eight of his 10 full seasons in the league.
Also not a coincidence: The team that's challenging Bayern Munich's seven-year reign atop the Bundesliga has someone who's doing the same to Lewandowski. At 31, the Pole is having the best season of his career, with 22 goals and three assists through just 20 games. Only Gerd Muller, in 1973, had more goals at this stage in the season. However, RB Leipzig's Timo Werner, who has 20 scores and six assists, is right there with both of them.
"Timo Werner is a good player who played an excellent first half of the season," said Hasan Salihamidzic, Bayern Munich's sporting director, last month. "However, we have Robert Lewandowski. Robert is a striker who fits our style of play perfectly. Robert is able to orientate himself in a tight space, has the ability to move in tight spaces and to find extraordinary solutions with the ball." He went on: "With his speed, Werner needs more room, which he had in the system that Leipzig played. The system at RB has now changed, but it is still not as tight at the front as it is with us."
While Bayern Munich has been suffering from an incurable club-wide case of foot-in-mouth disease for more than a decade, Salihamidzic is right. Of course he couldn't avoid getting a little dig in at Werner — a "good" player having an "excellent" season, rather than the other way round — but despite almost identical production so far this season, Lewandowski and Werner have risen (or remained) above everyone else in different ways.
What makes the pair so great
Lewandowski remains the prototypical in-the-box striker. Bayern average more possession than any team in Europe's Big Five leagues (67.2%, with Barcelona in second at 65.2), and they complete their passes at the fifth-highest rate (87.5). However, in the final third, their pass completion rate drops down to 79.7%, which is just the 26th-highest number. That discrepancy suggests that Bayern are facing packed-in defenses that limit space in the most dangerous area of the field. No matter, though: Lewandowski is an absolute master when it comes to anticipating, creating and capitalizing on small pockets of room where there should be none.
Lewandowski's shot map should be taught in soccer academies around the world. He barely ever lets rip from outside the penalty area, and the vast majority of his attempts come from the heart of the box. Take a look: green are goals, red are misses, and the bigger the circle, the higher the expected-goal value.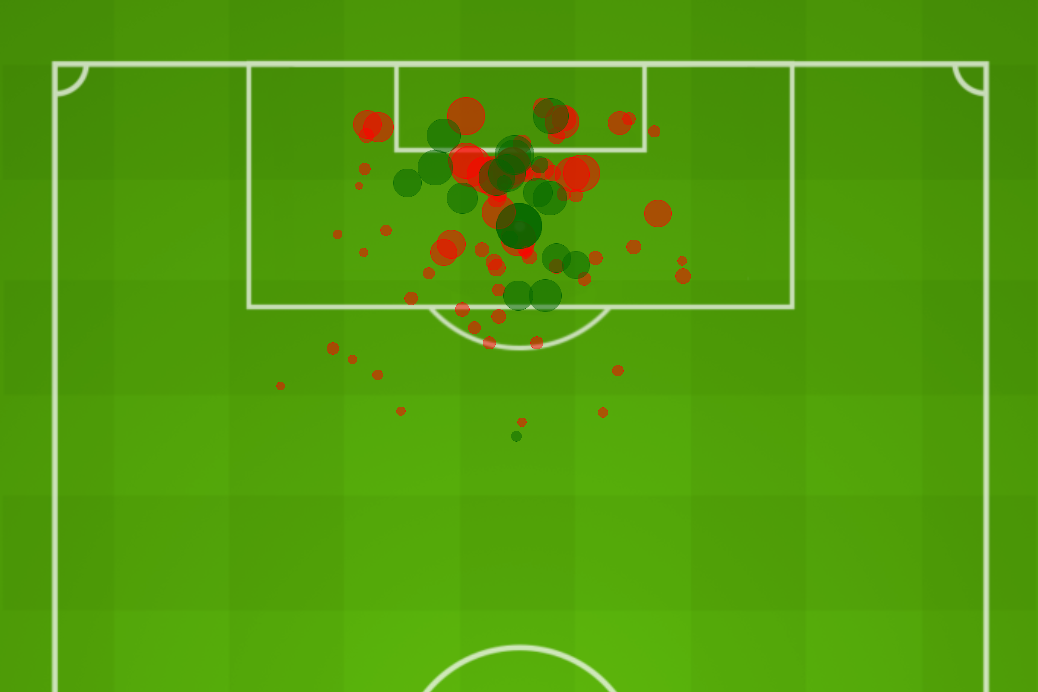 Per 90 minutes, he leads the Bundesliga in shots (4.83), non-penalty xG (0.94), non-penalty goals (0.97), touches in the penalty area (9.70) and touches per shot (0.46). The thing that will surprise most people is that Lewandowski isn't a particularly skilled finisher. Per Opta's post-shot xG model, which takes into account where the shot ends up on the goal frame (i.e. a shot that misses the net is awarded a big ol' zero), Lewandowski has actually subtracted value from his shots in each of the past six seasons. But as his career proves, finishing is only just a secondary skill; what really matters is the ability to get off a lot of shots from inside the box.
For some context, these are the other players in Europe's Big Five leagues who take 0.6 or fewer touches per shot and average a shot-distance of 12.5 meters or less: Jamie Vardy (Leicester City), Tammy Abraham (Chelsea), Edin Dzeko (AS Roma), Sergio Aguero (Man City) and Danny Ings (Southampton).
Werner, meanwhile, isn't quite the middle-of-the-box merchant that Lewandowski is, but he makes up for it by getting on the end of a bunch of tap-ins — an indicator of Leipzig's offense focused around the counterattack. His shot map also has way more attempts from both sides of the penalty area: a clear indicator of the wide role and wide positions he often takes up when Leipzig don't have the ball or when they're in an earlier phase of possession.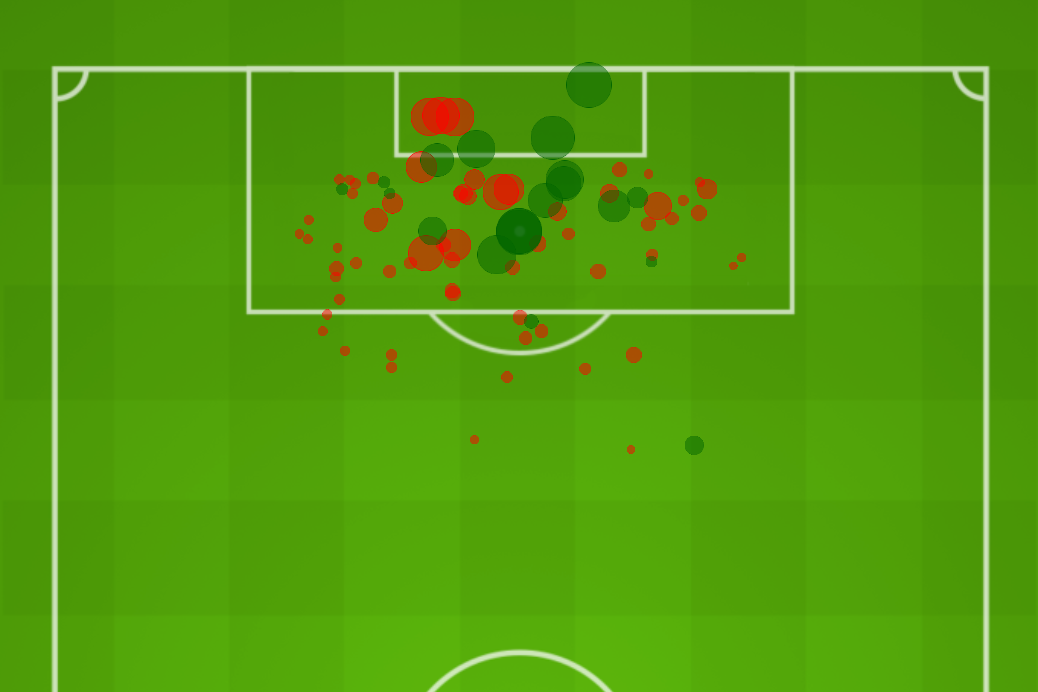 Although they're only one point behind Bayern in the table, Leipzig are averaging just 55.9% of the ball, good for 18th-best in Europe. Since they don't have the ball as much, Leipzig typically have more space to attack into than Bayern. Per TruMedia, Werner is leading the Bundesliga in shots attempted during fast breaks per 90 minutes, and only PSG's Kylian Mbappe and Atalanta's Josip Ilicic have scored more goals per 90 minutes from fast breaks. However, elite strikers — the kind that score 20 goals in 20 games — can't subsist solely on a diet of counter-attacks.
Werner also manages to be dangerous from established possession. The only other players in the Big Five Leagues who are taking 0.25 shots per 90 minutes on fast breaks but also averaging at least seven touches in the penalty area: Mbappe, Mohamed Salah (Liverpool) and the Lazio duo of Ciro Immobile and Joaquin Correa.
Despite the stylistic differences between Werner and Lewandowski, the output is strikingly similar: per 90 minutes, Werner is second behind Lewandowski in shots (4.46), non-penalty xG (0.72), goals (0.9) and touches per shot (0.58). However, he's got the edge in both assists (0.32 to 0.15) and expected assists (0.27 to 0.22).
On Sunday, their statistical convergence becomes material as Leipzig travel to Munich in what is likely the most important game of the Bundesliga season. Win it, and Leipzig will have a two-point lead with just 15 games to go. Lose it, and they might fall all the way down to fourth place. In plenty of other scenarios, this match could represent a kind of passing of the torch: an all-time great making way for the young upstart who's suddenly leapt up to super-stardom. Not quite, though. Last decade was Lewandowski's and with three goals in his first three games in 2020, this one is still his, too.