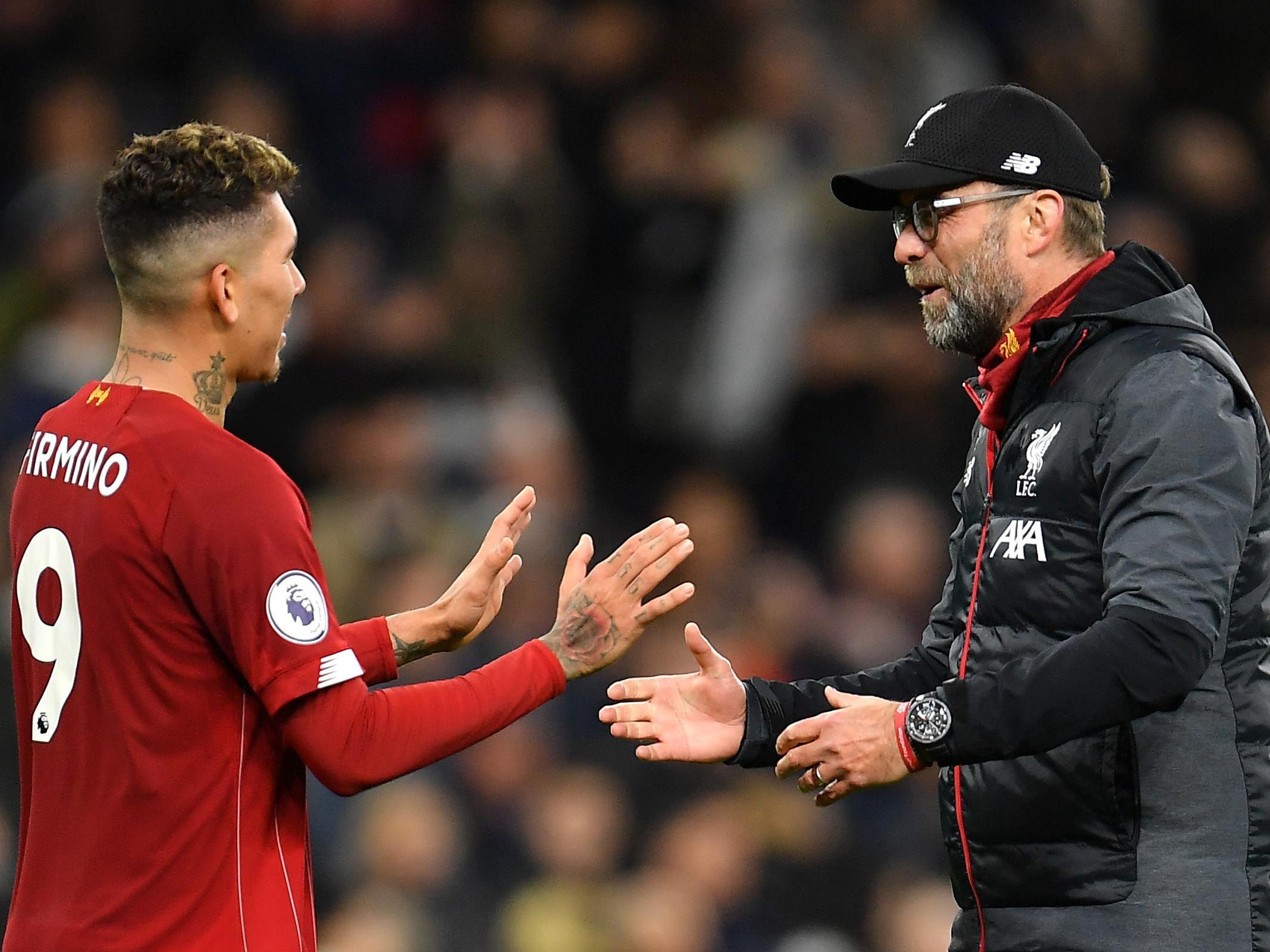 Saturday night at the Tottenham Hotspur Stadium and Liverpoolserved up a public service announcement.
The only script they are interested in reading from is the one in which they decide their own destiny, ending a three-decade wait for the title.
Roberto Firmino's decisive goal ensured Jurgen Klopp's side recorded the best start to a campaign of any team in the history of Europe's top five leagues with a staggering tally of 61 points from 21 matches. It was also a new benchmark haul of 104 over a rolling 38-game period in the division.
But you wouldn't have been able to decipher that from their immediate reaction to the 1-0 victory over Jose Mourinho's Tottenham.
"We want to analyse this game and do much better," Virgil van Dijk during his post-match TV duties. "In the second half they pressed us and made things difficult.
"The stats give us a good feeling, but you can see there is still room for improvement. We have to look at the things we have to improve. That's the mentality we have. Obviously we are in a good situation, but there is still so much work we can do to make it easier at times."
If you are searching for the secrets to why Liverpool are 16 points clear at the summit with a game in hand, this refusal to be comfortable and get complacent is a solid starting point.
The world champions were dominant for 60 minutes in north London, then dug in. This was not as assured a display as they would have liked, with Spurs upping the ante on 70 minutes, increasing the intensity of their press and remembering they do actually have technically gifted players to flex some offensive might.
Heung-Min Son and Giovani Lo Celso snatched at and spurned glorious chances late on, but the gulf in class between these teams – Champions League finalists in June – was reflected for the most part.
The first 36 minutes of the encounter was authored in Mourinho's tone: his side defending doggedly, the country's acclaimed team with all the ball huffing and puffing to blow down their blockade, wasting the rare openings created. Lucas Moura and Son had both gone wide at the other end with Jordan Henderson and Joe Gomez forced into mistakes.
When Japhet Tanganga, Mourinho's 20-year-old defensive wildcard, superbly blocked from Firmino 120 seconds after kick off, with Alex Oxlade-Chamberlain's follow-up effort striking the post, it looked to be an evening for the #narrative.
But then came minute 37 with Liverpool doing what is now a default setting: finding a way.
Henderson was brave to win the ball with his head on the edge of the box ahead of Dele Alli, feeding it to Mohamed Salah who played in Firmino. The Brazil international's deft touch took the ball away from Tanganga, before he powered a finish into the bottom corner.
Mourinho was not able to savour being the spoiler, the wrecking ball to Liverpool's ridiculous run, but he did get some verbal punches in.
"Yesterday we spent half an hour defending throw-ins, and lost the game defending a throw-in. And to top it off, the throw-in should be in our favour," he said.
"So it's a bit frustrating. Unfortunately the assistant didn't see it. But I have only reasons to be proud of the boys. We have what we have, and we have to try to create a puzzle with what we have to compete against a good team like they are, and I think we deserve more from this game.
"They are so so good and so so strong in every area. And on top of that, they are lucky. They were lucky. They could perfectly concede a goal, they could perfectly finish with ten, the VAR were having their tea and didn't watch [Andy] Robertson for a red card [for the foul on Tanganga]."
Mourinhohas repeatedly wished that Spurs afford him the patience Klopp has enjoyed at Anfield, but as a manager that has eschewed longevity, he will need to show evidence that he deserves it.
He has not been helped by injuries – most notably to Harry Kane – but it is now only one clean sheet in 11 games under the Portuguese in all competitions.
Tottenham are now winless in four games in all competitions for the first time since November 2016, while the landscape is markedly different for Liverpool.
"I am really happy about the best start, but you don't get anything for it," Klopp said.
"I am only interested in what we can get in the summer, and that's not done yet, because this league is so strong and we face so many tough opponents. We have to be ready.
"The moment we have enough points that nobody can catch us any more, I will start talking about it."
Liverpool's manager understandably does not want to speak about title glory yet, but the script has seemingly already been written.