As if Inter Milan's Champions League exit wasn't hard enough, Romelu Lukaku was "welcomed" back to the Europa League by his former Manchester United teammate, Luke Shaw…
The Toe Poke Daily is here every day to bring you all the weirdest stories, quirkiest viral content and top trolling that the internet has to offer, all in one place.
Jump to: PSG opponents' chairman reveals he's named his cat Zlatan | Star Wars stormtroopers escort Brazil's young Player of the Year at award show | Monterrey fans name newborn baby after Vincent Janssen
As is traditional, Inter Milan failed to make it into the Champions League knockout stages for the eighth successive year after losing to Barcelona in their final match in Group F.
Inter, needing to win to retain any hope of leapfrogging Borussia Dortmund into second place, ultimately fell to a 2-1 home defeat that resigned them to their fate once again.
Alas, Romelu Lukaku's 20-yard drive just before half-time wasn't enough as the Nerazzuri were eliminated by a late strike from 17-year-old forward Ansu Fati, who became the youngest goalscorer in competition history as a result.
Lukaku then had salt rubbed into the wound when his former Manchester United teammate Luke Shaw welcomed the Belgium striker back to the Europa League.
Welcome back 😉 https://t.co/Q07D1SwHGZ

— Luke Shaw (@LukeShaw23) December 10, 2019
"Welcome back," wrote Shaw in a reply to a tweet of Lukaku's from almost two months ago. The left-back has previous when it comes to quibbling with his ex-United colleague on social media.
Back in August, when Lukaku was still a United player and taking plenty of flak for his performances, the striker posted the squad's preseason sprinting stats. The (hastily deleted) tweet showed that Lukaku was the second-fastest player on United in the test with a top speed of 36.25 km/h, behind only Diogo Dalot's 36.43.
Romelu Lukaku leaks Man United's speed test results 👀 pic.twitter.com/HfUqtqUK1p

— ESPN UK (@ESPNUK) August 3, 2019
The move was a riposte to his critics, but Shaw was the collateral damage, as the results showed he was the slowest player with a top speed of 31.03 km/h, leaving Juan Mata, second from bottom on the list, to thank Lukaku for "finally showing the world he's quicker than Luke Shaw." Not to be outdone, Shaw tweeted soon after that he was only going at "70%."
Inter finished the Champions League group stage with seven points, while United are yet to confirm their status as winners of their Europa League group. Given UEFA's convoluted system of seedings for the knockout phase of its second competition, there is the tantalising prospect that Lukaku and Shaw will have a reunion on the pitch in the New Year.
PSG opponents' chairman reveals he's named his cat Zlatan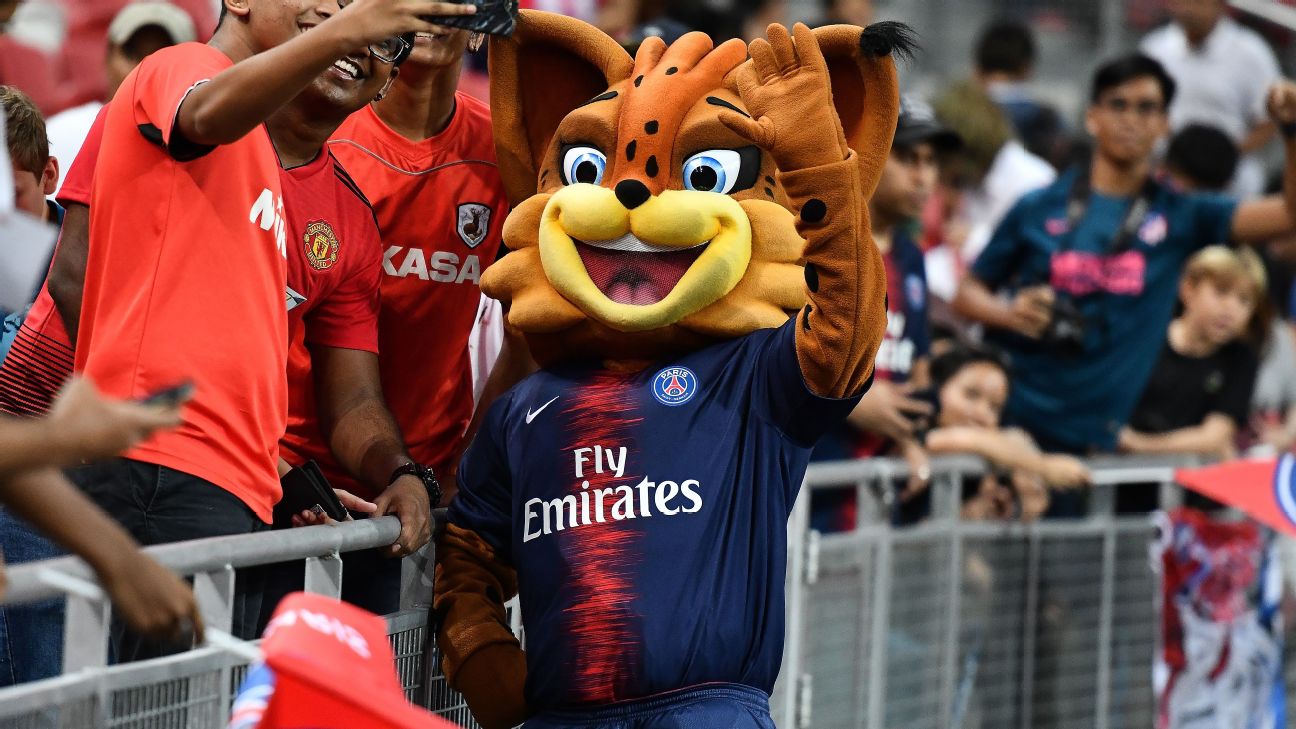 With a big cup match against Paris Saint-Germain coming up, the coach of sixth-tier minnows ESA Linas-Montihery has revealed that his loyalties are ever so slightly split.
Hailing from the French capital himself, Stephane Cabrelli has admitted he is a lifelong fan of his opponents — so much so in fact that he's named his cat after a certain former striker.
"I can confirm [I am a PSG fan]," Cabrelli confided to Le Parisien ahead of next month's Coupe de France fixture. "I was a season ticket holder […] however, these past few years, it has become a little more expensive.
"I will be Red and Blue until the end. Even my cat is named Zlatan!"
The 52-year-old also said that playing against his beloved PSG was a "Christmas present" and that while he expects his amateur side to have their work cut out against the reigning Ligue 1 champions, he isn't ruling out an upset.
"It is cliched, but everything is possible in football," he added, perhaps more than a little optimistically.
By the way, the above picture is not an image of Zlatan the cat but of PSG's mascot, Germain le Lynx.
Star Wars stormtroopers escort Brazil's young Player of the Year at award show
Que a força esteja com Michael!#BolaDePrataESPN #StarWars pic.twitter.com/TctV5PGWnl

— Mundo ESPN (@ESPNagora) December 9, 2019
Brazilian club Goias saw their prodigious young striker Michael named Best Young Player at the end of season "Silver Ball" awards after he netted 16 goals over the course of the campaign.
Of course, therefore it was only natural that Michael don a Jedi robe and be escorted out on to the stage by a platoon of Imperial Stormtroopers.
During his speech, Michael admitted that the Star Wars scene was "funny," which probably won him a subsequent award for Understatement of the Year.
Yep. We've got no idea what's happening either.
Monterrey fans name newborn baby after Vincent Janssen
Nace un "Janssen" regiomontano

Janssen Hannry Álvarez Zamora

Gran nota de @ABCNoticiasMX pic.twitter.com/V03Rmv4bEa

— Omar Zeron (@omarzeron) December 10, 2019
It took him a while, but Vincent Janssen is just about up and running in Mexico after pitching in with a handful of goals in his debut season at Monterrey.
Indeed, it would appear the Dutchman has made quite the impact up in the terraces too, with reports that some Monterrey fans are already naming babies after him.
According to ESPN Mexico, the supporters in question have registered their newborn son "Janssen Hannry Alvarez Zamora" in tribute to the former Spurs forward.
Amazing stuff. Truly amazing.