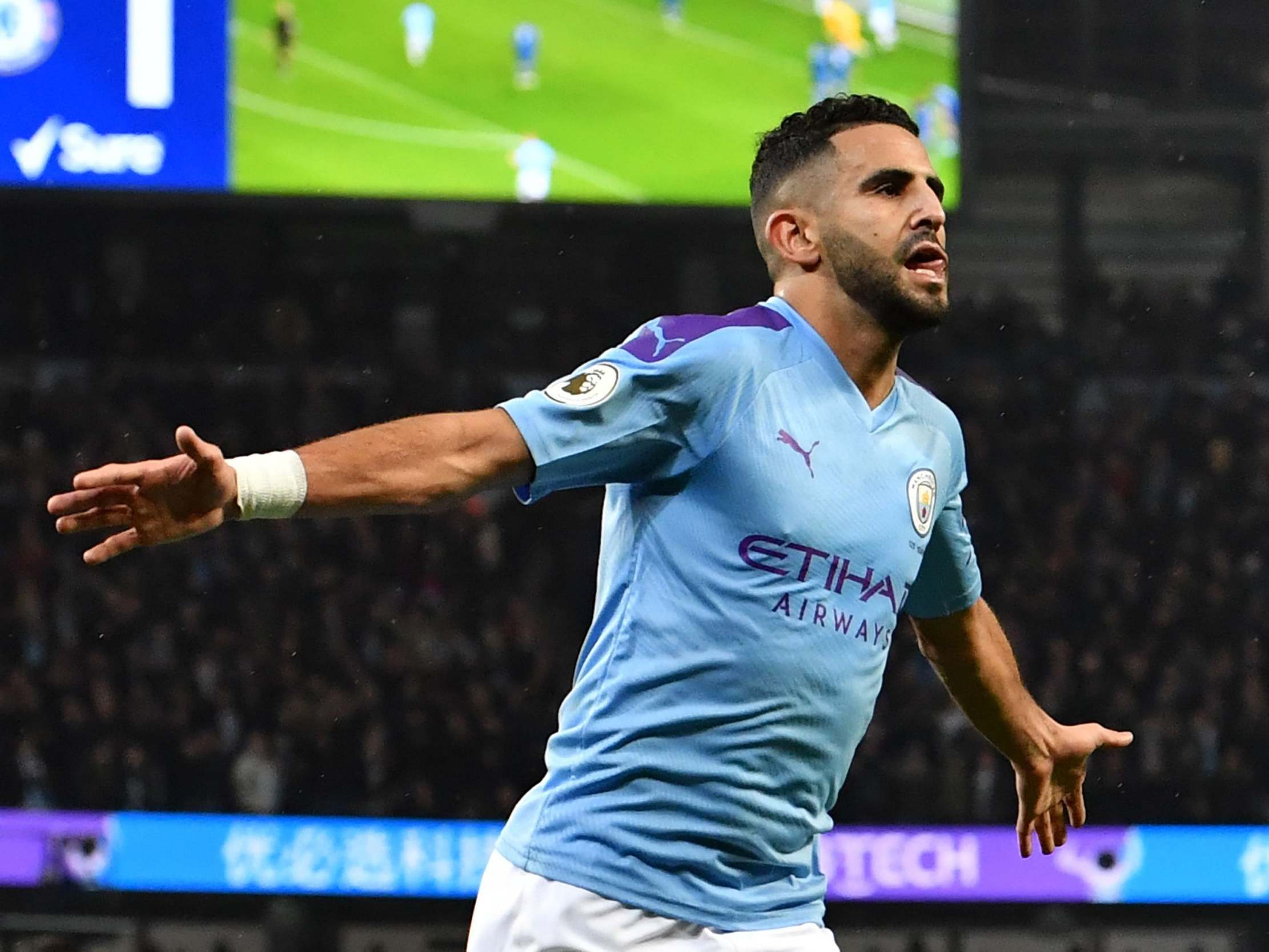 Manchester City are in need one of their trademark winning runs and perhaps this was where the next started. A hard-fought victory, earned by Kevin de Bruyne and Riyad Mahrez's goals, saw the champions move into third place ahead of opponents Chelsea, though no closer to leaders Liverpool.
At least they are no further behind Jurgen Klopp's pace-setters. N'Golo Kanté's opening goal here gave Chelsea hopes that this would mark the beginning of their own bona fide title challenge but Frank Lampard's young side allowed their slender lead to slip in the space of nine first-half minutes.
This was a vital win for City, earned with the lowest share of possession that a Pep Guardiola side has ever registered in any of his 381 career top-flight matches. It may have come at a cost. Sergio Aguero went off with a muscular injury which his manager admitted "does not look good". Rodri and David Silva were also forced off.
Perhaps that is simply the price of not losing any more ground. At one stage on Saturday afternoon, it appeared as though Crystal Palace may hold Liverpool to a draw and allow the champions to move within seven points of the summit. Instead, the leaders' latest late show meant City's deficit was in double digits by kick-off.
If they had lost this game, Pep Guardiola would have been forced to face serious questions about a faltering defence of their crown. If Chelsea had won, it would not just have cast serious doubts on the champions' credentials, but announced a young, inexperienced team as genuine contenders.
Kanté, a two-time Premier League winner, is one of the few members of Lampard's first-choice line-up that has been there and done that, and it was his breakthrough not long after the 20-minute mark which suggested that Guardiola could suffer yet another unwelcome setback.
City's defence and its invariably high line have looked vulnerable to balls over the top of late. Mateo Kovacic took the majority of Guardiola's backline out of the game with a delightful pass into Kante's feet. He held off Benjamin Mendy's meagre resistance and squeezed a finish beyond Ederson.
A one-goal lead at the Etihad is a precious thing, something not to be easily squandered, but Chelsea continued to play with the same sense of adventure they had shown from the first whistle, thinking nothing of their own high defensive line and intricate passing out from the back.
On several occasions, they were even happy to allow De Bruyne space with the ball on the edge of their area. It was a mistake. After easily evading a sliding tackle by Jorginho, the Belgian struck low and hard at goal. A ricochet off Kurt Zouma's legs deceived Kepa and sent the ball into an unguarded corner of the net.
It had taken nearly half an hour for City's first shot on target but, once level, they began to find the many gaps that Chelsea's daring approach had left to exploit. That being said, even a well-drilled and disciplined defence would have struggled to contain City's decisive second, scored by an inspired Mahrez
Having received the ball on the right flank from Rodri, Mahrez soon found that he was seconds away from becoming the meat in Kovacic and Emerson Palmieri sandwich. He slipped through a narrowing gap between the two players, stepped inside, then drilled low and out of Kepa's reach.
The Chelsea goalkeeper was nearly beaten for a third time as the interval neared and only had himself to blame. After City cut off his passing lanes, Kepa hit the ball straight into Sergio Aguero's feet. The crossbar spared Kepa's blushes and the danger was eventually cleared.
After a first half played at a breathless pace, the second was far more sedate until a late flurry of action. Stoppage time saw Mason Mount fire a free-kick a few inches wide of Ederson's right-hand post. City went up the other end and appeared to extend their lead through Raheem Sterling, only for VAR to pick up a fractional and contentious offside.
Sterling's shoulder appeared to have strayed ever so slightly beyond Kurt Zouma's buttocks. It may seem inconsequential, with only a few seconds left, but these are now the margins by which goals are allowed and disallowed. The margins are finer than ever and if the title race comes down to goal difference, it will be remembered.
The home crowd made clear what they thought of that decision and were still protesting against the new technology when the final whistle blew, though eventually there came cheers for an important three points. City remain nine points off the pace but perhaps the fightback is on