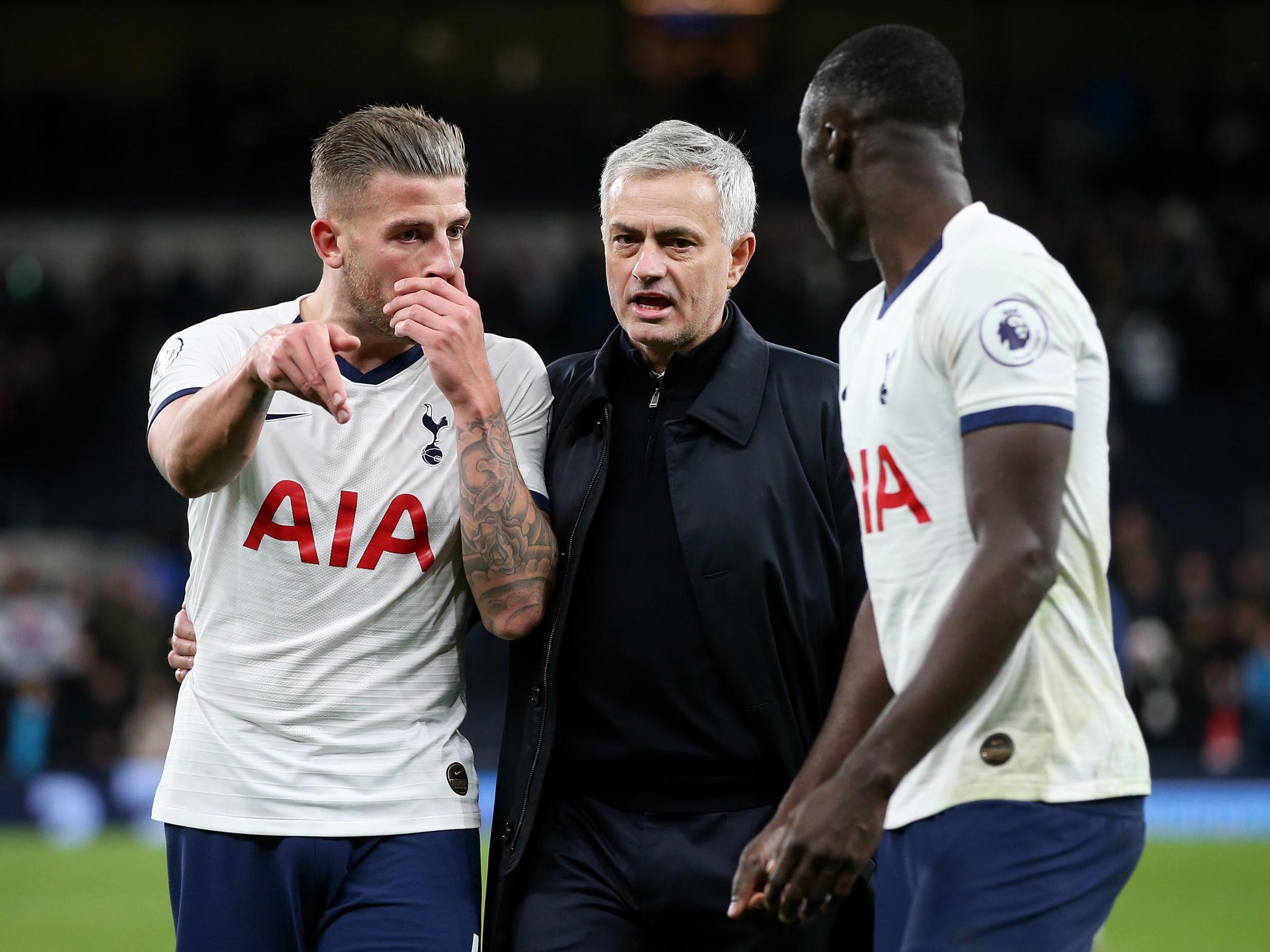 It is one of the problems with doing punditry, to go with the many problems in the Tottenham Hotspur defence.
Back on the opening day of the season, after Chelsea had collapsed in a 4-0 defeat against Manchester United, Jose Mourinho felt comfortable enough to say the following about Marcus Rashford and Kurt Zouma, two of his former players.
"I would be very frustrated with Zouma," the Portuguese began, after the defender gave away a penalty for a clumsy trip. "You analyse opponents and that is one basic thing against Rashford. He always goes to the inside. He always goes to his favourite foot on his favourite side. He's looking for that curving shot. You just have to close the inside and don't put your leg out."
Given Mourinho had already told the world this about Rashford, the fair question from Wednesday night at Old Trafford was whether he'd passed on the same message to Moussa Sissoko. Either way, it was just another example of the sloppiness that has afflicted this Spurs defence in the Portuguese's porous first few games.
Mourinho's new side have now conceded two goals in each of his first four games. How that must irritate him. It is the opposite of what his most pronounced immediate effect is supposed to be. It is so un-Mourinho.
Sissoko has admittedly been a source of that porousness in more ways than that one, even if it is not entirely his fault.
The French international has found himself in a midfield duo with Harry Winks that, clearly, doesn't usually work. It is too narrow and tends to be outmanoeuvred by modern midfield threes, exposing those two players as well as the defence.
As for the backline, there has been error after error. It is something that is of course going to be compounded when you have a player like Rashford on this kind of commanding form, but there's no looking past the defence's poor form too. It's been far too easy to get at and unlock.
Consider the nature of some of the goals Spurs gave away against West Ham and Olympiakos in particular. They involved uneven lines, basic mishits at set-pieces and a series of individual and collective errors.
For his part, it was something Mourinho experienced in his first few months at Old Trafford back in 2016-17, before beginning to have a proper effect there. United were reassuringly solid by winter that season. He will gradually restore defensive order at Spurs. That is one thing about his coaching that cannot be doubted.
He never quite perfected it at Old Trafford, mind, because he was never perfectly happy with any of his players – and that's what is interesting at Spurs.
The career profile of this squad is known to suit Mourinho. The profile of the centre-halves certainly does. It is no secret he wanted to sign Toby Alderweireld when he was at United.
Mourinho has the Belgian now, but a few sources maintain that Alderweireld is the only one he wants to keep – at least as regards his preferred back-line. It is understood the Portuguese would like to upgrade every part of the defence bar Alderweireld – four out of five players.
Daniel Levy might balk at that, but that actually isn't as outlandish as it initially sounds. It is fairly logical, even going beyond this spell of form.
Let's take a look at the options. Paulo Gazzinaga put in good saves on Wednesday but let Rashford's first shot through him. He remains the second-choice goalkeeper, with fair questions over whether their long-time first-choice – Hugo Lloris – was already past his best before this injury. The full-back positions meanwhile require improvement, having gradually weakened in quality under Mauricio Pochettino's tenure.
Jan Vertonghen can still be a valuable member of the squad, but is pushing on in age, while Davinson Sanchez hasn't really stepped up. He has not quite developed as expected. The Colombian meanwhile doesn't instinctively feel like a Mourinho defender, and he is someone that the Portuguese has specifically targeted in the past.
For the 2017 Europa League final with United against Ajax, Mourinho told his players that Sanchez wasn't as good with the ball at his feet and to get him into areas where he had to be on it so they could capitalise. Mourinho willingly discussed the topic in coaching lectures in Portugal and in interviews since, going into forensic tactical detail on how his side won that game 2-0.
It's also a topic that many at United evidently remembered, and one that Solskjaer has been paying attention to. They seemed to play on exactly this issue during Wednesday's 2-0 win, harrying Sanchez when required.
On the grounds of Tottenham's defensive performance at Old Trafford, there's a lot of work to be done. Mourinho's first principle as a manager has now become one of his first problems to solve with the club.